Scuba Diving Vacations
What to pack?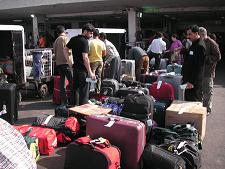 What should you pack for your Scuba Diving Vacations?
What to pack for your scuba diving vacations is always a heated discussion in my house. I can get by on six tee shirts, some underwear, and two swim suits. These items are usually shoved somewhere in my 60 pounds of camera gear. Kidding aside, what to pack is extremely individualized.
Let's start with the basic snorkeling gear: Mask, Fins and Snorkel. I always pack these items and try not to rent them at a local dive shop. Nothing is worse than a leaky rental mask on a scuba vacation.
Wetsuit – The purpose of the wetsuit is exposure protection. Since I'm a big guy, getting cold is not usually a problem. I use a 3mm shorty suit to keep from getting a sunburn.
Regulator – If I am doing a lot of diving, then I will bring my regulator and computer. If I am only doing one day of diving, I'll just rent. Most of the tourist dive shops have pretty good rental equipment these days. Now you're probably going to ask yourself, a scuba vacation with only one day of diving? My other hobbies are golfing, wife, hiking, wife, horseback riding and wife….you get the picture.
BCD – Since I do not dive with more than 6 pounds in my shorty wetsuit, I usually just rent my BCD. No need to pack that thing around.


Gear bag – I like a bag with wheels. With some of the TSA folks needing to look at everything, I just use some zip ties, and bind the zippers together. This will make it easy for the TSA folks to cut open and inspect, but stay hard enough for some thieves to sneak into.
Camera gear – Camera gear is a topic all by itself, check out our camera pages for that information. I would suggest making sure you have plenty of batteries. One very important note; declare all camera gear with customs before you depart the airport. This way you will not need to pay import taxes when you return. I try to take my camera as carry-on and pack the housing in my check-in luggage.
Personal gear – Spare mask and fin straps, plenty of sun screen, and don't forget some personal first aid and medicine (aspirin).
I try to pack light. Some of the smaller islands might charge up to $100.00 for excessive baggage.
Now enjoy all of your scuba diving vacations.




Return to Scuba Diving Vacations - Main page
Back to Scuba-Info's Home page