Long Blade Free Diving Fin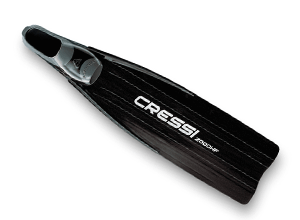 Long Blade Free Diving Fin or Free diving fins also come in a open heel version (strap) and a full foot version. The open heel version should have its straps taped together or turned inward to keep from snagging the kelp while diving.
The full foot version seems to work the best for me.
Now let's discuss the blade choices you may have at the local dive store. Use the stiffer blades (more power) for those deeper divers. Use the softer blades for the shallower dives. Also the soft blade will help out if you are hunting along the bottom; they will give you more maneuverability.
I have seen several divers get softer blades, because they felt their legs were not strong enough for the stiffer fin. This is a correct assumption, when using the free diving fins technique is always better than compensating for a fin that to stiff.
Over all you will like the free diving fins because they provide better power and propulsion over standard scuba diving fins.



Return from Long Blade Free Diving fin to Scuba Fins.
Back to Scuba-Info's Home page