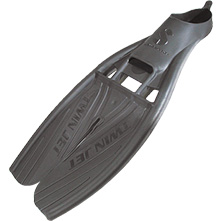 Full Foot Fins
Full foot fins need to be comfortable. I look for a soft foot pocket; some of the cheaper fins are made of a hard plastic. These types of fins are cheap and a lot of rental place use these fins because of their durability.
The most common question, I am asked about these fins is how tight should they be on your feet?
These fins should be a little loose, but should not move more than one inch up and down your heel. If you wear a shoe size 9, then try a fin sized 9-10. If you were a 10.5, don't be surprised if one manufacture is too big and another is too small. Different manufactures seem to use a different size table; I can't figure it out sometimes. If you cannot find the perfect size, try a thin sock on your foot or consider switching to Force Fins.
The most comfortable of these fins, I have found is the Scuba Pro "Twin Jet". These fins are made from a very soft thermo plastic, very similar to the underground gasoline tanks (these fins are made to last). They usually can be found at the $70 - $99 dollar range.
If this is going to be a onetime use or you don't have a lot of money, than consider the Deep Sea fin (under $20) or the Aeris fins (under $30).
Taking care of your scuba fins is pretty basic, check out our

Full Foot Fins Maintenance Page