Aqua Lung BCD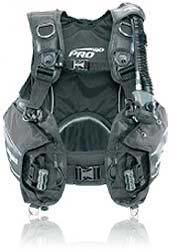 Of all the Aqua Lung BCDs, the Sea Quest Pro QD is really a heavy duty jacket that is light weight. Sea Quest has a tradition of innovations and continuous improvements. The Sea Quest Pro is the best selling one of Aqualung BCD.
The bladder of the Pro QD expands three dimensionally. This is what gives the maximum lift without all of the drag that a similar (lift) BCD would have.
The weight integration system uses Aqualung's patented Sure Lock system It is this system that allows for easy weight removal, without the hassle of dropping your weights accidentally during your dive.
All of the major wear areas are reinforced with the "Armorshield Cordura". It is this reinforcement that makes the Prop QD such a long lasting bcd.
All of the dumps are accessible from the front. This makes them accessible to the scuba diver.
The Pro QD comes with a chest strap also. The chest strap will keep the shoulder straps in place during the dive and the hike back to your car.
To maintain your

Aqua Lung BCD check out our maintenance tips.
Back to Scuba-Info's Home page