Scuba Mask Maintenance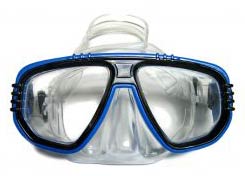 Care Before and During the Dive
Scuba Mask Maintenance begins when you first buy your mask. When the mask is made a thin layer of silicone will be placed on the glass lens. This silicone will make the mask be especially susceptible to fogging during the dive. Even regular anti-fogging paste will not help with silicone.
The best way is to use a mild abrasive. Toothpaste or a mild cleaner will work. Use hot water and an old toothbrush and scrub two or three times. This should remove the silicone. All masks will fog, even if you have cleaned the silicone. Use an anti-fogging cleaner before each dive.
Don't forget to inspect the mask strap and mask seal area for tears. Also be careful while you are gearing up; it is here when tanks are being moved and setup; very easy to set something heavy on your mask.
Care during the dive? Of course, lose the mask, lose a dive. Always place your hand on the mask during entries from the beach or boat.
Care After the Dive:
Like all scuba equipment, wash and rinse your gear in warm fresh water. If the water is hot enough, it will dissolve the salt crystals. Towel dry your mask and it store away.
One last thing before you store away your mask, double check the strap and mask seal for tears.
Store all of your scuba equipment away from water heaters, furnaces, and automobile exhaust. These environments will do harm to your scuba rubber.

Retrun from

Scuba Mask Maintenance to Scuba Mask
Back to Scuba-Info's Home page